Can't get music to play in a Photo Album?


---
We have received a lot of e-mails relating to: "Can't get music to play" in a Photo Album.

In 100% of the cases so far, the problem has been: User Error or a Browser Pluggin Required:

Keep in mind that PhotoELF creates WEB pages for your album. Web Pages are viewed with any browser. Each browser that views the album, must be a recent version, like 5.0 or greater. AND, have the proper pluggins for playing WAV and MP3 Files. If it does not, your browser might not play the music.

Also, PhotoELF uses your copy of MS Iexplorer for its internal browser. If your copy of Iexplorer is not up to date, then PhotoELF's browser will not be up to date either.

Here are the most common problems that a user encounters:
User has misspelled the sound file name in the Options
Album was not re-created after adding sound to update the album
User has an Old Media Player that cannot play the new formated WAV and MP3 files
User has an older browser that needs to be updated.
Browser does not have a correct pluggin for linking to media player
Having said that, please read carefully: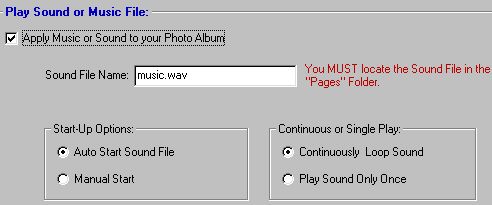 Following is a list of things for you to try:

User Related Problems:
Name of the sound file specified in the Albums Options is not spelled correctly.
Check for Upper or Lower Case Letters. Be EXACT when spelling the name of the file
Do not forget to include the extension of the file ".wav" or ".mp3" etc.
Finally, if you turn on the "Sound" option after you create an album, you must re-create the album to update that album with sound. This is done by running through the wizard a second time.
---

Click the link below to view an album with music. This Link will open a NEW Window. This album was created with photoelf.

When you click the link below, an album will appear and a small music window will appear for a second or two. If you hear music, then your browser is fine and you may just need to check the spelling of your filenames in your album.

If you do not hear music, but see the music window for a second, then your browser is either older, or does not have a proper media player to play music files. Scroll to the bottom for a link to free media players.

View Album with Music

---

Browser Related Problems:

First, if you run your new album, and a small music window appears for a second or two, then PhotoELF has created the Album correctly. If music does not play, this could be an indication of a misspelled filename or your browser / media player cannot play that music file.
Your browser needs to have the proper pluggins to handle the music files.
Browser versions that are less then 5.0 may not be new enough to handle music.
Adequate Media Player Installed on the viewing computer is required.
To download the FREE Windows Media player that is compatable with Internet Explorer, visit the following page: http://www.microsoft.com/windows/windowsmedia/9series/player.asp

For Netscape Browsers, visit www.netscape.com

---

Sound File Related Problems:

Finally, download the following WAV file and try it out in your album.
sound.wav 108 kbytes
NOTE: Best to Right Click the link above and select: "Save Target As.."

Download this WAV file and try it out in your album. Don't forget to re-create the album after you update the OPTIONS of the wizard.

If this sound file plays in your album, then you may look to see if your browser is updated to handle whatever sound file you wish to use, or check to see that your sound file is not corrupted.

If this sound file does NOT work with your album, then you may need to update your browser or your media player on your computer. OR, you have misspelled the sound file name in the OPTIONS.

---